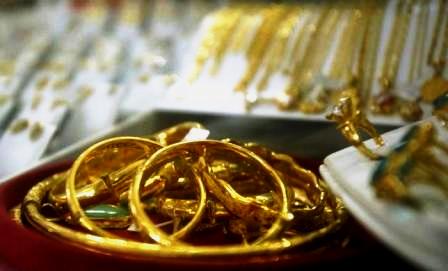 Gold Silver Reports ~ Gold fell on Wednesday as oil prices and world stock markets rose, and expectations for further monetary easing from the European Central Bank prompted some investors to take profits after the metal's rally to 13-month highs last week.
Outflows were seen from bullion-based exchange-traded funds after hefty inflows earlier in the year. The largest, SPDR Gold Shares, said its holdings fell 2.4 tonnes on Tuesday, its biggest outflow in nearly four weeks.
Spot gold was at $1,252.68 an ounce at 2:36 p.m. EST (1936 GMT), down 0.6 percent, while U.S. gold futures for April delivery settled down 0.4 percent at $1,257.40 an ounce.
"The ETFs are showing that things are sliding. Some investors are starting to pause those purchases in terms of trying to figure out if this is a relief rally or if things are starting to change," said Brad Sanderson, vice president of Commodities at Cohen & Steers in New York.
"The market is slowly trying to decide if things have changed globally or if (they) need to lighten up and can buy this back cheaper."
Commerzbank analyst Carsten Fritsch said gold prices were being weighed down by a combination of earlier strength in the dollar, rising stock markets and rising bond yields.
"This seems to have sparked some profit-taking," he said.
The euro held firm in choppy trading as investors awaited an European Central Bank meeting, which they expect will result in interest rates falling deeper into negative territory and more bond purchases to help the euro zone economy.
"If the bank does meet market expectations, the euro should weaken and the dollar should strengthen, so we should see dollar gold testing the downside," Societe Generale analyst Robin Bhar said.
The market is also awaiting the U.S. Federal Reserve meeting next week.
Last year, this meeting was seen as a likely opportunity for the Fed to raise interest rates. However, concerns over the stability of the global economy and mixed signals from U.S. data have since caused analysts to revise expectations.
Gold tends to be pressured by rising U.S. interest rates, which lift the opportunity cost of holding non-yielding bullion while boosting the dollar, in which it is priced. The Fed lifted rates for the first time in nearly a decade in December.
Silver was down 0.1 percent at $15.29 an ounce, while platinum lost 0.5 percent at $973.74 an ounce and palladium rose 0.9 percent to $561 an ounce. ~ Neal Bhai Reports