Crude Oil headed for its first weekly loss since mid-December as Iran moved closer to reviving a nuclear accord that would lift American sanctions on its petroleum exports.
While futures in New York edged above $90 a barrel on Friday, they are still down about 2% this week. Officials from the U.S. to Europe have indicated that sides are closing in on a nuclear pact after talks resumed in Vienna on Tuesday. A biggerthan expectedjump in U.S. inflation that stirred hawkish Federal Reserve comments added to the bearish sentiment.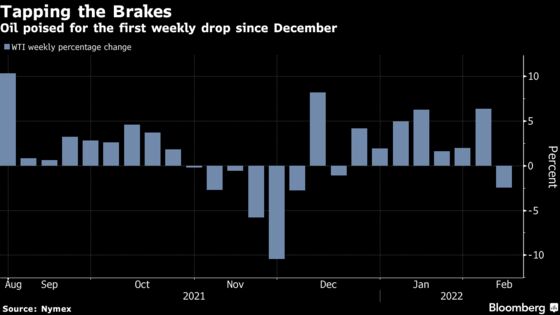 "There are positive signals coming out of the Iran nuclear negotiations that suggest the finish line could be in sight, but as always, the devil is in the details," the Parisbased International Energy Agency said in its monthly report on Friday.
Although oil's scorching rally has taken a breather, global consumption continues to rebound, with OPEC suggesting Thursday that the recovery could surpass its forecasts this year. The IEA also said that prices may climb furtherbecause of the OPEC+ coalition's "chronic" struggle to revive output, unless the group's Middle Eastern heavyweights pump more.
Rising energy prices are causing concern for governments worldwide. White House Economic Adviser Jared Bernstein told CNN this week that releasingmore crude reserves to tackle surging gasoline prices was an option, while the soaring cost of diesel is straining truck operators throughout Asia.
Prices
West Texas Intermediate for March rose 0.6% to $90.42 a barrel on the New York Mercantile Exchange at 10:26 a.m. London time.Futures are down about 2% this week.Brent for April settlement gained 0.4% to $91.80 on the ICE Futures Europe exchange, after dipping 0.2% on Thursday.
The resumption of a nuclear accord with Iran could help alleviate some of the tightness in the global supply-demand balance. White House PressSecretary Jen Psaki said a deal that addresses the concerns of all sides was in sight, while European Union foreign policy chief Josep Borrell said parties were "reaching the last steps."
Other market news:
The world's oil supermajors are pumping out cash as if crude were already trading at $100 a barrel. Oil buyers across Asia are showing a willingness to pay up for supplies loading from eastern Russia despite concerns over potential U.S.-led sanctions on flows due to the crisis over Ukraine. The gasoline market is roaringhigher in Europe and Asia as Nigeria urgently seeks resupply of the fuel after receiving cargoes that were unsuitable for domestic consumption.
Source: Bloomberg
सोशल मीडिया अपडेट्स के लिए हमें
Facebook ( https://www.facebook.com/goldsilverreports/ )
linkedin (https://www.linkedin.com/in/nealbhai/ )
और Twitter ( https://twitter.com/goldsilverrepor ) पर फॉलो करें।
हमारी फ्री सर्विस और लोगो की paid सर्विस से कई गुना अच्छी है।
आपको हर दिन दिए जाएंगे 3 से 5 कॉल बिलकुल फ्री
हर CALL में PROFIT दिये जायेंगे
तो जल्दी से MCX CHANNEL को JOIN कर लो (NEAL BHAI REPORTS)
JOIN US CLICK HERE

EQUITY CHANNEL को JOIN कर लो (EQUITY FREE TIPS)
JOIN US CLICK HERE