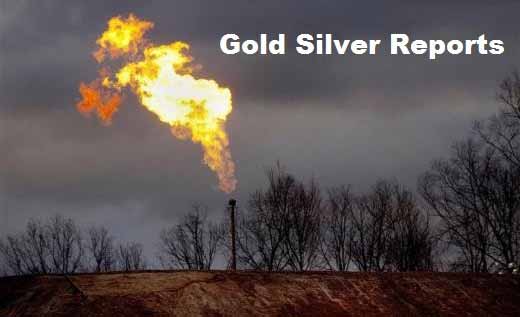 Gold Silver Reports – ⭐⭐⭐⭐⭐ MCX Natural Gas Blast Boom Boom Above 203 We See Ultimate Target 230 Very Very Soon – Natural Gas on MCX settled up 5.39% at 195.40 rallied on short-covering the highest finish for a most-active contract since November, as U.S. gas supplies tumbled by a record 359B cf last week, beating the market consensus estimate for a decrease of 337Bcf.
Natural Gas MCX market is getting support key at 191 and below same could see a test of 184 levels and resistance is now likely to be seen at 203, a move above could see prices testing 207. 
Yesterday the U.S. Energy Information Administration said in its weekly report that natural gas storage in the U.S. declined by 359bcf in the week ended Jan. 5, compared to forecasts for a withdrawal of 318 bcf. That surpassed the record draw of 287bcf in the week ended Jan. 10, 2014, EIA data showed.
Meanwhile Mild conditions will remain over the southern and eastern US today with highs reaching the 40s and 50s over the Great Lakes and Northeast, with 60s and 70s over the southern US. A fresh cold blast with rain and snow will impact the Rockies and Plains today, then advancing into the East this weekend through early next week with lows of -15°F to 20s.
Read More: Natural Gas Buy on Dips Target 197—203, Sell Karna Mana Hai
The NW will bring rain and snow, while milder and drier across the SW. Next will be cold over the East with rain and snow. Overall, national demand will be increasing to high this weekend through early next week. Now total natural gas in storage currently stands at 2.767tcf, according to the US EIA.
That figure is 415 bcf, or around 13.0%, lower than levels at this time a year ago and 382 bcf, or roughly 12.1%, below the five-year average for this time of year. Prices have gained around 5% so far this week as investors reacted to the severe winter storm hitting much of the U.S. Eastern Seaboard. – Neal Bhai Reports