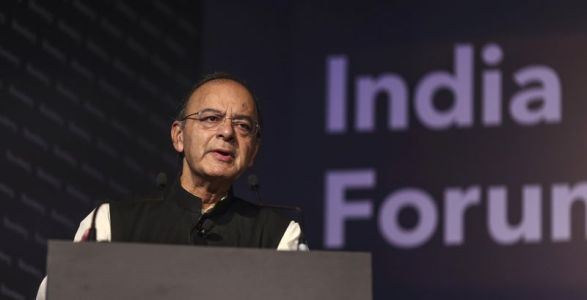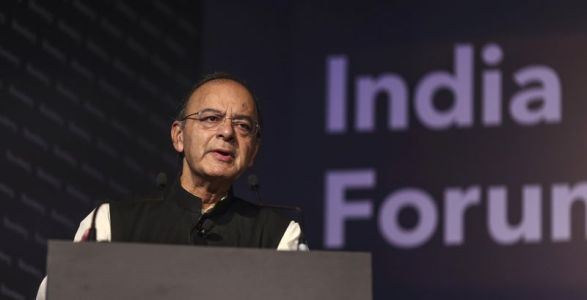 Gold Silver Reports – Finance Minister Arun Jaitley said India needs to find a balance between fiscal prudence and spending — and there's no need to panic — as he tries to dig the economy out of its deepest slump in three years.
Speaking at the Bloomberg Economic Forum in Mumbai, Jaitley called for more private investment from local companies and said the banking system must get healthier to support that investment.
"How do you maintain the balancing act between continuing to spend in an economy, continue to maintain your banks and support them, and how do you maintain standard of fiscal prudence?" Jaitley said. "And this is the challenge we are facing."
Read More: Rupee opens Marginally Lower Against US Dollar ahead of Fed Meet
Speculation had been swirling about a stimulus to revive Asia's No. 3 economy that's bogged down by sweeping currency and tax-policy changes. With elections a little more than a year away, pressure has been building on Prime Minister Narendra Modi to spur investment and create jobs for the swelling workforce. The problem is that U.S. tightening and rising global oil prices make it tougher for India to spend more.
Investors are awaiting details on what the government will do, said Sonal Varma, chief India economist at Nomura Holdings Inc. "Fiscal slippage has been a risk, but whether actual slippage occurs is dependent upon whether the government prioritizes fiscal credibility or faster growth," she said.
India aims to shrink its budget deficit to 3.2 percent of gross domestic product in the year through March 2018 from 3.5 percent the previous year. Jaitley declined to provide details on the government's plans to spur growth.
Budget Risks  
Indian bond yields jumped and the rupee fell on Thursday on concern that the government will forfeit its goal to shrink Asia's widest budget deficit. The federal shortfall was at 92 percent of the full-year target in the first four months of the fiscal year started April 1 compared with 74 percent in the previous year.
"It's not about expenditure, it's about the quality of expenditure," said Amitabh Kant, an adviser to the government. Citing leaky airport toilets and loss-making highways, he urged the government to sell large infrastructure projects and called on companies to expand into the global market.
Any deterioration in public finances risks the wrath of rating companies such as S&P Global Ratings, which this week downgraded China for the first time since 1999 citing soaring debt. India carries the lowest investment grade rating and a cut to junk status could force some investors to dispose their Indian assets. | Neal Bhai Reports
India Finance Minister Says Don't 'Panic' Over Slowdown | Neal Bhai Reports | Gold Silver Reports