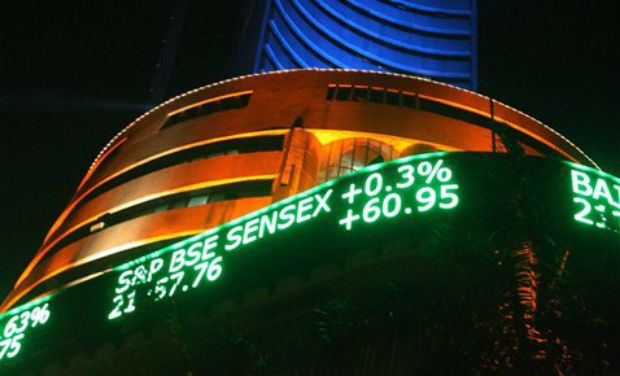 Gold Silver Reports ~ Indian stocks advanced to a 10-week high, with the benchmark gauge capping a 3rd week of gain, as risk appetite returned to developing markets after global central banks indicated a willingness to continue measures to support growth and stabilize markets.
♦ Tata Consultancy Services Ltd., the largest software exporter, surged to its highest price this year. Bharat Heavy Electricals Ltd., India's biggest power-equipment maker, rose for a fifth day to become the best performer on the S&P BSE Sensex this week. The stretch of gains was the longest since July. GAIL India Ltd. climbed to a 6-week high.
♦ The Sensex surged 1.1 percent to 24,952.74, its highest close since Jan. 6. The gauge rose 1 percent this week. Emerging-market stocks were on the cusp of a bull market as crude topped $40 a barrel and the Federal Reserve's dovish stance revived demand for riskier assets. Global funds bought $1.9 billion of local shares since March 1, the biggest inflow in 15 months.
♦ "Foreign inflows into India have become even more correlated with those going to other large emerging-market nations and that's why you need to look outside for cues," Sanjay Mookim, an equity strategist at Bank of America Merrill Lynch. "We have seen a decent pick up in flows in this EM rally and after the annual budget. Hopefully, that will continue for a while."
♦ Indian stocks have climbed in all but three days this month after Finance Minister Arun Jaitley in his Feb. 29 budget pledged to further cut the fiscal deficit, stoking speculation of a interest-rate cut by the central bank in its April 5 policy meeting. Reserve Bank of India Governor Raghuram Rajan said over the weekend the central bank was "comforted" by the government's plan to shrink the budget deficit to 3.5 percent of GDP while telling reporters to "wait and see" how that feeds into monetary policy.
♦ The Sensex has rallied 8.5 percent in February, poised for its best monthly performance since October 2013. Global funds bought $140 million of shares on Thursday, taking the week's inflow to $428 million.
♦ "Our market is driven by liquidity, apart from our own fundamental strength," Pankaj Razdan, chief executive officer of Birla Sun Life Insurance, said in an interview with Bloomberg TV India. "The market is very attractive for the next three to five years. You may see volatility, but money is always made in volatile markets."
♦ The India VIX Index, a measure of volatility, capped its third weekly loss, the longest run of declines since October.
♦ Tata Consultancy jumped 3.1 percent to its highest level since December. Bharat Heavy climbed 2.3 percent, taking this week's rally to 9.4 percent. ICICI Bank Ltd., the nation's largest private sector bank, added 1.1 percent to extend this week's gain to 7.7 percent.
♦ Bharti Airtel has risen 9 percent this month. GAIL gained 3.1 percent, extending Thursday 4 percent rally.   ~  Neal Bhai Reports