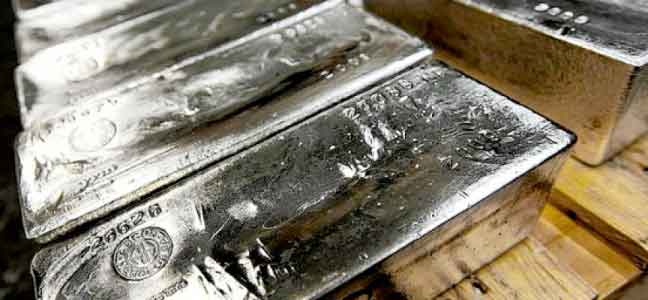 Gold Silver Reports — Silver MCX Intraday Trading Zone Key 40330-41940 — Technically Silver market is getting support key at 40880 and below same could see a test of 40330 levels, and resistance key is now likely to be seen at 41560, a move above could see prices testing 41940.    
Silver on MCX settled down -0.24% at 41323 as pressure seen with an apparent deal to raise the U.S. debt ceiling until Dec. 15 in focus, though investors noted that President Trump's willingness to work with Democrats on the extension has riled hard-line Republican leaders.   
Overnight, bullion prices fell on Wednesday, as US political uncertainty eased after President Donald Trump agreed to raise the debt ceiling and extend government funding through Dec. 15.
Silver prices retreated from high pressured by a rebound in the dollar on news that President Donald Trump agreed on Wednesday that Congress should pass an extension of the U.S. debt limit and raise the debt ceiling, which caps how much money the U.S. government can borrow.
Read More: Goldman Sees Silver Lining for Macau Casinos Hit by Typhoon
The deal included working with the Democratic leadership as part of an effort to ensure funds are available to help rebuild after Hurricane Harvey. Losses in bullion however, remained limited as expectations on additional U.S. rate increases faded, following comments from Federal Reserve officials urging the U.S. central bank to consider shelving its plan to hike rates later this year amid a slowdown in inflation.
Investors and traders outside the U.S. have had two days to digest the latest North Korea nuclear bomb test, which is reported to be the biggest bomb yet. The U.S. says North Korea is "begging for war" as this major geopolitical matter is ratcheted up yet another notch.
The major economic data point of the week is Thursday's ECB monetary policy meeting, including a press conference from ECB President Mario Draghi after the meeting. — Neal Bhai Reports
Silver MCX Intraday Trading Zone Key 40330-41940 | Neal Bhai Reports | Gold Silver Reports