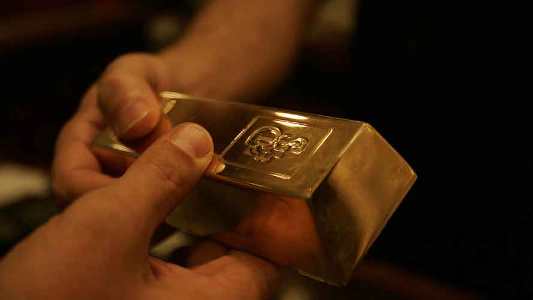 Gold Silver Reports — MCX Gold In Recovery Mode, Eyes Rs 28K — Gold futures rose on Friday, extending weekly gains amid a flurry of downbeat economic news. Buying seems to be returning in Gold after the metal edged up from a four month low.
August gold gained $10.20, or 0.8%, to settle at $1,227.50/oz. Gold added 1.6 percent for the week, moving away from 4-month lows. Silver was also up nearly 3 percent. MCX Gold ended just under the critical Rs 28K levels. Consumer price inflation in the US came in unchanged in the month of June, denting expectations the Federal Reserve will again raise interest rates this year. The Labor Department said its consumer price index was flat in June after edging down by 0.1 percent in May.
Economists had expected consumer prices to inch up by 0.1 percent. U.S. retail sales unexpectedly decreased for the second consecutive month in June. The Commerce Department said retail sales fell by 0.2 percent in June after edging down by a revised 0.1 percent in May. The University of Michigan released a report on Friday showing a notable deterioration in U.S. consumer sentiment in the month of July. The preliminary report said the consumer sentiment index dropped to 93.1 in July from the final June reading of 95.1.
At the end of June, total holdings in gold-backed ETFs and similar products stood at 2,313.1t (74.4moz), 22.2t higher from May. These holdings were valued at US$92.4bn, 1% lower compared to a month earlier. North American and European Funds led the way: the former gained 12.8t to 1,227.1t while the latter added 10.5t to 977.7t. Asian funds lost 1.3t (-2%) to 61.9t and funds in the Other region increased marginally (+0.2t) to 46.4t.
In North America, gains by iShares Gold Trust (+7.4t) outpaced that of SPDR Gold Shares (+5.0t). Their holdings at the end of June were 210.3t and 852.5t respectively. In Europe, it was UKs Source Physical Gold P-ETC that witnessed the largest inflow across the universe in the month. Its holdings increased a whopping 12.2t (+12%) to 111.7t. In Asia, decline of the Chinese fund holdings slowed in June. After falling below the 20t mark during June, holdings of the Huaan Yifu Gold ETF rebounded and ended the month at 20.0t. — Neal Bhai Reports
MCX Gold In Recovery Mode, Eyes Rs 28K | Neal Bhai Reports | Gold Silver Reports